Oh geez y'all, I am soooooo sick at the moment but I got some super awesome things at the thrift stores over the weekend so I've got to muster the strength and post about them yes? :)
We spent a few days with my mom and she has some fantastic thrift stores near her house. Two of them are actually Goodwill stores and y'all have read of my suspicious nature towards Goodwill so imagine my surprise at consistently finding a little cool something here and there at her Goodwills that I never find at mine! We had a couple of shopping days so I'm going to split my posts up and only show you a couple of things here and will get to the rest later.
Behold! Decent things found at Goodwill! :P
I found this Modern Homemaker's cookbook from the 1960s:
I love any cookbook but I especially enjoy those that focus specifically on the "homemaker". There's usually great tips and much kitsch to enjoy in them.
For some reason, I'm always drawn to random glasses, mugs, cups, creamers, random what have yous. I just like the look of these. :) There's suppose to be a third one, an atomic looking tumbler but it busted in our suitcase on the way home. Boo!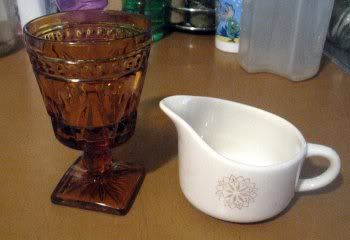 I also found this groovy record which I admit I bought purely for the picture on the front:
I'm trying to gather some odds and ends to create a vintage vanity area in our bedroom and I was lucky enough to find this pretty powder box which still smells of powder:
The top of the box: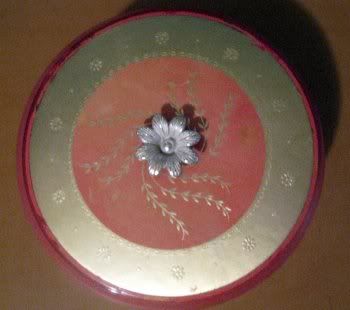 I did not buy these but my mom's friend was going through her Christmas decorations and graciously set some aside to give to me!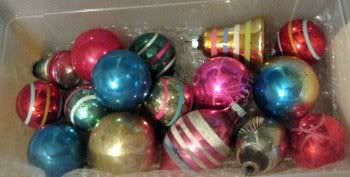 I was telling mom that I wanted to use some shelving in our kitchen to display vintage what nots and she donated this to my cause: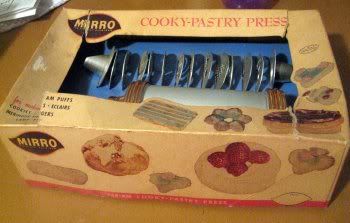 I'll share more later but for now I must crawl into a hole and be miserable before Toot wakes up from her nap. :D I hope you all had a fabulous weekend and if you made any vintage discoveries, please tell me about them! :)