Hi everyone!
Just a little bit of everything here:
Rice Babies
is hosting a vintage swap which looks to be fun. It's not a crafty swap so if you love vintage and would like to swap some vintage awesomeness with someone else be sure to sign up! Click the button below for more info:
I FINALLY found some groovy vintage frames and was lucky enough to find an optician in my area that would actually come within 20 yards of them and put my prescription in them. He said they looked to be from around 1954 and had never had lenses in them, excellent shape!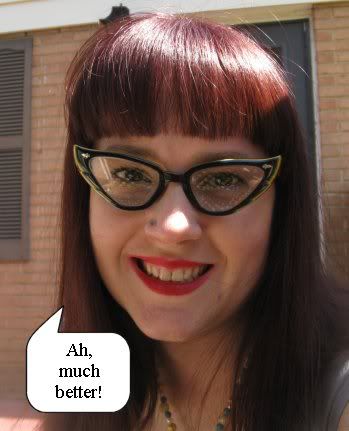 I got them from
Ally Scura
and FYI if you're looking for frames: This was a great shopping experience AND I paid about 1/3 of what someone else was charging for the same frames on Etsy. Score! I also got a cut and color so I feel much better. LOL
Right now I'm wrestling with the red lipstick I bought the other day. I finally found a shade that actually looks red on me now I just have to get it applied where I don't look like a 5 year old messing in Mommy's make up. LOL
Not much else to report on my end...what are you up to? Any thrilling vintage finds lately???