Hi everyone! Still recovering from Christmas? Sorry I've been a little absent lately, I hope to rectify that soon after I return from a short stay in the country at my mom's house. We weren't able to see her for Christmas so we're headed up there for New Years! I hope you all had a fabulous holiday season this year!
Anyone who has even glanced at a vintage magazine couldn't miss the Campbell Soup ads. They were (and are) everywhere in almost any magazine there is, including the November 29, 1952 issue of The Saturday Evening Post.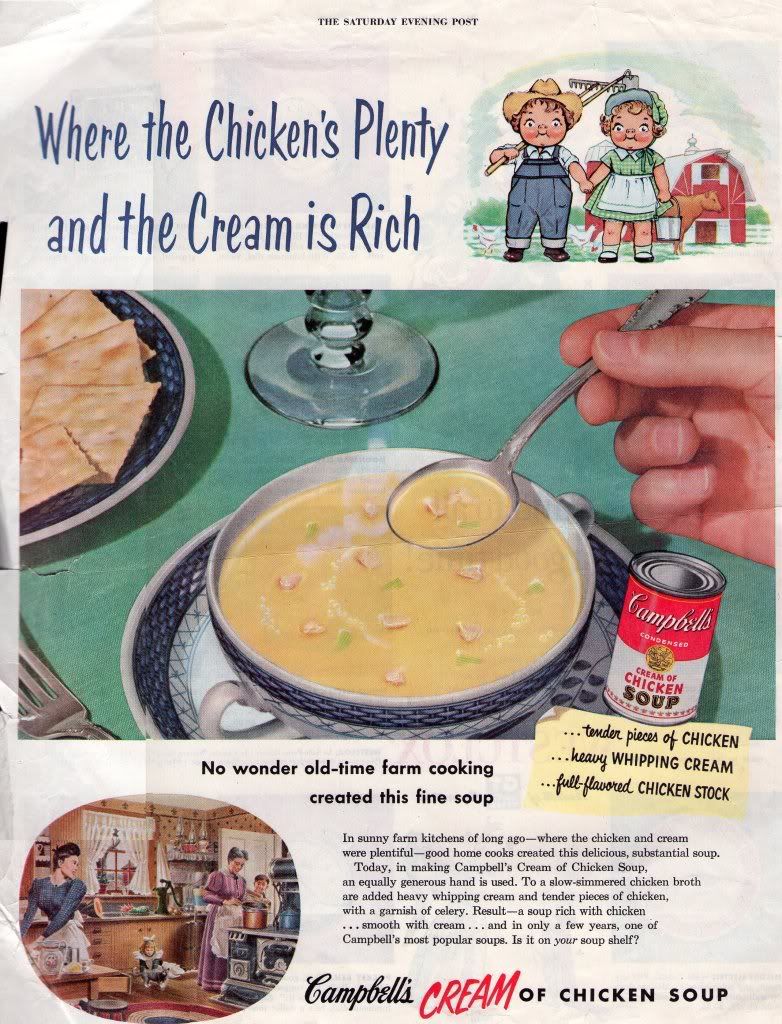 **This is an ad from my personal collection, scanned in just for you! Feel free to snag this ad FOR YOUR PERSONAL USE ONLY! No big and bad terms of use and you don't have to link back to me just please do not sell this article as part of a clip art CD or anything like that. I will send the Campbell Soup kids after you....and it will hurt. :D Also, please make sure to save it to your own computer! Photobucket has started charging for bandwidth use overage-BOOOOO-urns. Thank you!**
Thank God for "old time farm cooking" because I cook so many things with Campbell's "cream of" soups! lol Talk about a kitchen cupboard staple! This company has been around since 1869 so it's no wonder you can find ads in most vintage magazines. (Plus, they also do those Pepperidge Farm cookies...HELLO! lol) And with it being quite chilly here, soup sounds delicious right about now!
What's your "go to" food for those warm winter days?