Hey y'all!
Okay, so I count myself as a halfway decent vintage shopper. I don't (well I try not to) shop stupid outside of my budget and most of time I stick to the "Second Time Mine" rule where if something is still at the store next time I go and I can afford it, it's mine.
Anyhoo, all this to say that the other day I bid on a 50s dress on Ebay when I shouldn't have...I mean we had the money but I didn't need to be spending it, know what I mean? So I prayed and prayed that someone would outbid me, of course no one did and the dress was mine. Blerg. (I got it for a good price but still...)
But no worries, I paid for it right after winning it, apologized to the husband and learned my lesson of "No Bidding on Ebay If You Don't Need to be Spending Money, Stupid". So the dress arrives today and I felt like I was living a page from
1950's Atomic Ranch House
's Ebay book (bad chapter, not the awesome pink appliances good one). Let's see if I can explain this in a way that makes sense and doesn't take up 10 pages...
Okay so I don't buy from Ebay often. I know it's like a great source for cheap vintage stuff but all told I've probably bought 5 things on Ebay during my years of being signed up over there. No particular reason, I just don't. I also don't dig confrontation although since getting older I've gotten better about that. But at any rate, whenever I've had a problem with Ebay or Etsy or wherever, I calmly and sweetly contact the person, get it dealt with, move on.
SO ANYWAY - This dress I bought was listed as having a couple of rust stains (which were pointed out in the listing) and no holes - otherwise fine condition. I get the dress today and the Priority envelope it had been sent in was almost all the way opened. (The tissue paper they wrapped the dress in got stuck to the sticky on the envelope so it never closed.) How in the world this dress got to me without damage or coming out of that envelope, I've no idea.
But the dress is fine so whatever. Then looking at the dress, I discover that there are indeed holes in the dress, specifically 3 where the seams are coming apart. But I figure, well I can sew that up. So I very kindly e-mail the seller to let them know that if they use those envelopes again, they may need to be taped just in case and the ad said no holes but I found some in the seaming.
Okay fine, e-mail sent - very sweetly I might add. Then as I was getting ready to launder the dress, I find an
actual
hole in the skirt which got me thinking that the seller didn't really look the dress over very well since I found this hole and the others pretty quickly and the ad said the dress was "free of holes". So I took a picture of that as well (I had sent a picture of the other holes for the first e-mail) and sent a second e-mail. (Plus, I realized later that the bust size was also misrepresented but at that point, whatever - that's the least of my problems here).
That was this morning and now I'm just waiting on a response from the seller. I'm not mad or anything actually, I'm just not sure what to expect since I'm not a frequent ebay-er nor immediate yeller at people for stuff. lol I'm also not sure why I'm blogging about it either except that I feel like in this virtual vintage world we live in, I guess I need a little hug and an "everything will work out". LOL Especially since I already feel like a moron for buying it in the first place...stupid poetic justice...
Any thoughts or opinions from the Ebay Masters out there?
But so this post isn't a total loss, here's a picture of some cups I found at a thrift store a month or so back: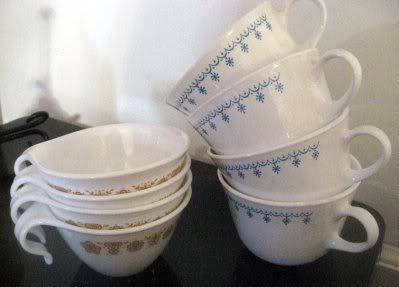 AND on a super happy fun note, Vintage Christine from I'm Not Old, I'm Vintage is having a
100 Followers Giveaway
so go check that out! :D
I hope you're having a great day! :)