Hi everyone!
I have my fabulous little chair to share with you but first, check it out: I have been given some awards from some fabulous bloggers!
First I received this from Kori at
Blonde Episodes
:
With this one you tell one of your New Year's resolutions and luckily I'm actually making resolutions this year! lol Here's one: I want to crochet at least one afghan to give away to a charity before the end of the year.
Then I got this award from Karen at
Bobbins and Bombshells
:
With this one I'm suppose to list 7 things about myself and I think I'll go vintage for this one:
1. One of my favorite movies is "Bringing Up Baby". I could watch it multiple times a day.
2. If I had less of a post-baby belly, I think I would tend to lean more towards the 1940s in terms of clothes.
3. One of my long term goals is to learn how to re-size and sew vintage patterns and make my own clothes.
4. I think we should ban together and bring back total acceptance and admiration of the voluptuous female figure. Marilyn Monroe, Jane Russell and Maureen O'Hara were not emaciated sticks, plus they all sang, danced, acted AND modeled.
5. I wish I could find a beauty salon that specialized in vintage hairstyles. I would totally pay to have someone else mess with my hair.
6. I still laugh out loud watching "I Love Lucy".
7. I'm working on crocheting from vintage patterns, they are so fun!
And last but not least, the fabulous Stefanie at
It's All Make Believe, Isn't It?
gave me this: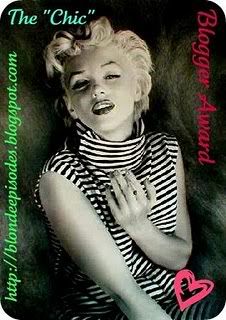 Thank you so much ladies, I really appreciate you thinking of me!!!
Now, on to my chair story:
My church is pretty low key and casual. Our little building is stocked with odds and ends, furniture that no one wanted, bric a brac, things like that. Well, I've been noticing this little chair sitting outside for a while now and when I finally asked about it found out that it had been used to prop a door opened sometime in 2008 and then left outside to the elements ever since. After picking my jaw up off the floor, I promptly asked permission to swipe it and take it home with me.
Poor little chair...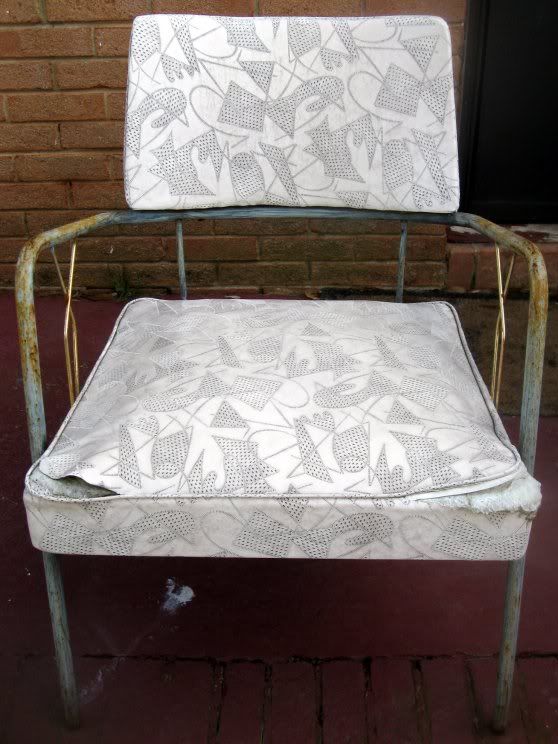 As you can see, the bottom corners are pretty torn and busted up and from being in the rain the cotton inside the bottom is trashed and the metal arms and legs are tarnished. I need some advice here: is there any way to fix the bottom? I would love to keep the original material (leather?) but I don't think the seat can be saved. Such a bummer since the back is in great condition. Not sure how old it is (50s? 60s?)....hmmmm....Isn't it darling though? I feel so much better having liberated it! lol Any thoughts? Now to convince my Pastor I need to retro looking table and chairs set in the sitting room! lol
Okay, time to get around to all of your blogs and get caught up! :D